Mast and Rigging Surveys
Marine Results International specialises in the survey of superyacht sailing systems from the deck up.
The team has gained huge experience in all aspects of large yacht sailing systems and continues to carry out sailing system surveys for the pre-purchase of all types of vessels including superyachts.
Often working hand in hand with the yacht hull and engineering surveyors, a typical survey will include a complete 'on the dock' visual inspection of masts, rigging, sails and winch systems. This will then be complemented with sea trials and a documented report.
Our pre-purchase survey service provides an in-depth, thorough evaluation of the vessel's sailing systems. When conditions permit, the inspection includes operational testing of all equipment.
Specialised inspections using a range of non-invasive testing is undertaken by our association company International NDT.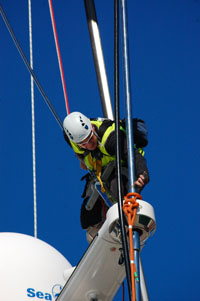 Videos
Awesome coverage of Marine Results, one of the world's leading superyacht rigging specialist, pulling one of the tallest masts on the planet out of the mighty Hyperion.
View All Videos

►