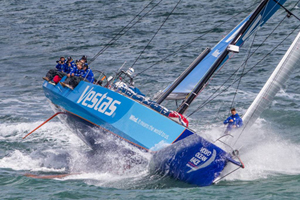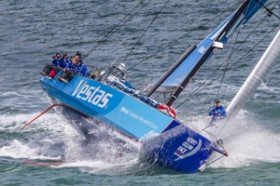 Giles Waterhouse and Ed Danby of Marine Results carried out a full NDT ultrasound inspection on the standing rigging of the 60m Perini Navi Seahawk, complete with its eyecatching red carbon rigging. The inspection took place while the yacht was at MB92 Shipyard in Barcelona.  Following an incident in the Caribbean the NDT inspection was required as a precautionary exercise. Luckily the project revealed that no remedial work was required to the Future Fibres rig.
Giles also travelled to Persico Marine in Italy to have a look at the hull and appendages following the repair of  Team Vestas Wind, the ill-fated Volvo challenger whose yacht grounded on a reef in the Indian Ocean.  With the yacht rebuilt/replaced, the replacement rig was also given a complete NDT inspection by Marine Results in Lisbon before the yacht rejoined the race.  The purpose of these inspections were to satisfy insurance criteria.  The yacht then went on to race in the final two legs to the finish.
The 111.55ft  (34m) Swan 112 Mystery, designed by German Frers, suffered a recent lightening strike.  The damage caused meant that there were a number of repairs to do.  Marine Results was contracted by the underwriters to oversee the claim and manage the refit, which included project managing the contractors.
Marine Results has just overhauled the tender lifting system, installing many new components, including a custom lifting beam, ready for two new tenders, on board the 289ft dyna-rigged Maltese Falcon. The lifting system is proof loaded, meaning that it is rated to more than safely pick up the tenders.   Marine Results has a close and ongoing relationship with the yacht and continues to supply services to her complex and innovative rig.  Marine Results has also recently carried out an annual inspection on Maltese Falcon's three enormous masts.
The 37.5 metre Dubois sailing sloop Escapade, launched only last year, was built at Fitzroy Yachts in New Zealand. One year on Ed Danby of Marine Results flew to New Zealand to carry out an annual inspection on her composite carbon rigging.  The inspection is part of a three year contract secured by Marine Results. Escapade has SCR Airfoil carbon rigging.
Another annual service was carried out in La Spezia, Italy, this time headed by Ben Porteous on the masts of the 53 metre (174ft) Perini Navi ketch Jasali II.   Marine Results maintains its close relationship with Jasali II and have previously carried the last major service on the standing and running rigging in 2010, at which time the masts were removed.
Another call was made the Marine Results' globetrotting team, this time when  Yacht Christo was hit by a crane while loading in New Zealand.  After being unloaded in Palma, Mallorca, Ed Danby inspected the rig and filed a report to the insurance company.