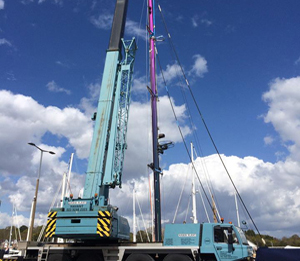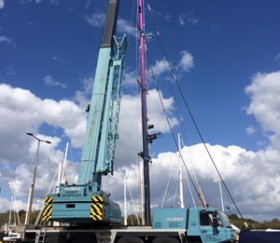 The Oyster 82 Bare Necessities changed hands in the spring of 2015.  As part of the purchase process Marine Results were asked to carry out a pre-purchase survey on the mast, boom and standing rigging for the new owner.
Then, once the sale of the vessel was completed the team, headed by Ben Porteous, carried out a full 10 year service of the rig and rigging in Lymington, UK which involved unstepping the mast and servicing all the standing rigging.  All components that were being re-used in the rig were subjected to rigorous NDT testing to reveal any hairline cracks or invisible damage by using fluorescent water washable dye penetrant.
The team also serviced the vang, backstay, outhaul cylinders and pump panel. The furlers were returned to Germany to the original manufacturer for a service.  An almost complete replacement set of running rigging was supplied, plus new aloft equipment.  All mast fittings were serviced including replacing or improving all worn components. Finally the mast was re-stepped and Bare Necessities has now headed to a new life in the Mediterranean.