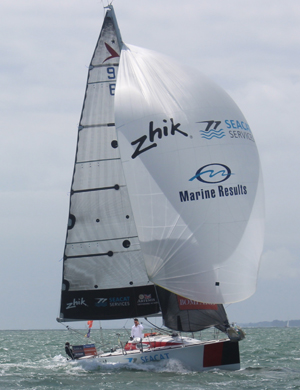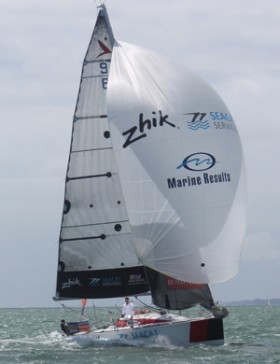 Specialist superyacht rigging and survey company Marine Results are renewing their sponsorship of British sailor Alan Roberts when he competes in his fourth Solitaire Bompard Le Figaro solo race during the summer of 2017.
Marine Results will be stepping up their support of Alan's campaign by providing a van and trailer, as well as equipment for this boat including new running rigging.  The company will also lend their expertise to ensure his rig is in top form for the four-leg 1500 mile race when it starts in June, when one of the team goes to Lorient to make final checks.
Alan is in a strong position to run an effective campaign. His 33ft (10.1m) Beneteau Figaro yacht is now owned by title sponsor Seacat Services, freeing him of financial pressure so he can fully concentrate on gaining a podium result – he has scored top Brit in the past two editions with a best race result of 3rd so far as well as topping the podium of the prologue in 2016. Aged 27, he still has plenty of potential to develop his offshore sailing career.
Alan says "I am really looking to getting stuck into the Figaro this season.  With continued support from my sponsors and partners it looks to be an exciting programme."
He adds "With the number of sailing hours and miles that can be clocked up during the training equipment needs to be serviced and replaced before we start racing.  With the support from Marine Results team the reliability and performance of the boat continues to increase, and with so many of the logistics taken care of we can concentrate even more on the 2017 race season."
Jon Morris of Marine Results says "We are very pleased with our decision to once again sponsor Alan's Figaro campaign.  He shows a great example of experience and success through endeavour, and the Figaro is an impressive training ground for the world's top offshore sailors.  Alan has already achieved a great deal on the solo circuit, and we want to pull out all the stops to help him to even greater success."
Marine Results is no stranger to equipping the rigs of long distance single handed yachts.  Amongst the company's global grand prix and superyacht support it has also been closely involved with Open 60 campaigns, the Volvo Race and America's Cup.
Marine Results once again joins Alan's other campaign partners, Seacat Services, Zhik, Kilchoman and BEE.