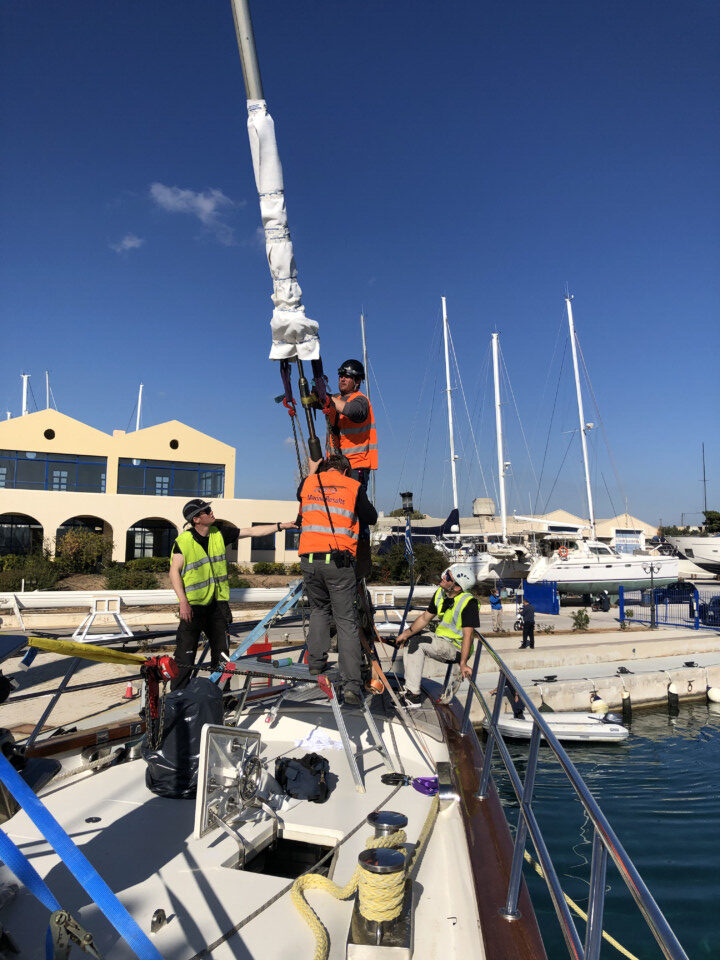 The Marine Results team has just completed an extensive service on the magnificent 52 metre ketch Xasteria, built by Perini Navi.  Our specialists were at Olympic Marine in Lavrio, Greece, travelling and working within strict Covid guidelines to pull out the main and mizzen masts and project manage a service of the standard rigging in conjunction with our regular partners Ocean Yacht Systems.  The rods were shipped to the UK where they underwent servicing in accordance with the rigging manufacturers' guidelines and then returned to Lavrio where we reinstalled all the components to the rig, finally returning the rigs to the yacht in May of this year (2021).
The whole project was preceded by a rig survey and from the results we then made our professional recommendations.  During the project we used the expertise of our associate company International NDT to test all the high load fittings using Flourescent Water Washable Dye Penetrant inspection methods.  We also serviced the electrical/hydraulic furlers at this time.
As with the majority of our major rig projects we carried out the final checks by heading out onto the water to undertake sail trials on board Xasteria before signing off the rig set-up.  Xasteria is now ready to sail again, with her captain, Argiris Kaltsounis, commenting "The Marine Results team was great and I am so blessed to work with you all!"
Have a look at our Facebook video.