Megan Brickwood and Ellie Aldridge are on the RYA's Podium Potential Squad, meaning they are now only one step away from the Olympic team.  By achieving their 2017 goal of moving up the rankings into the Gold Fleet they have also secured more funding from the RYA and their chances of improvement have also been greatly enhanced by securing a brand new 49er courtesy of their principal sponsor Marine Results.
Says Megan on her Facebook report "A huge thanks to Marine Results for their immense support in getting us a brand spanking new boat! "
The boat, which they have named Florence, was christened by Britain's most decorated female Olympic athlete, rowing champion Dame Katherine Grainger, when she visited the British Sailing Team at their home training base of Weymouth and Portland in her role as Chair of UK Sport.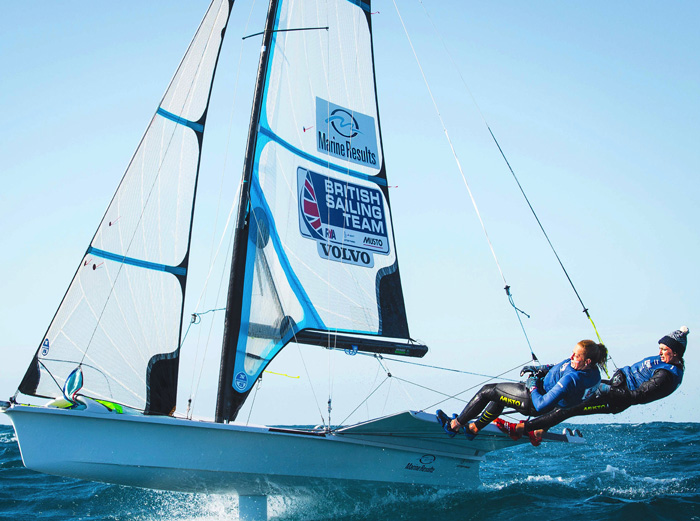 "She is basically royalty to us," continues Megan.  "Hopefully this will help make us fast as we progress towards next year's events and beyond!  We have been extremely fortunate to have Marine Results alongside us in our campaign over the past year and are really looking forwards to building our relationship further in the coming years."
The girls spent March training in Palma in preparation for their first test of the 2018 season the Princess Sofia Regatta where they earned their spot in the Gold Fleet of the 54 strong FX fleet.
You can follow the girls' progress on Facebook @mellieSailing.